Interior design styles are constantly changing and today we've gathered the top 5 trending kitchen styles to help inspire your own dream kitchen! The kitchen is often called the heart of the home, and creating an atmosphere that feels inviting and fun is sure to encourage lots of entertaining, hosting guests, and cooking delicious meals with the family.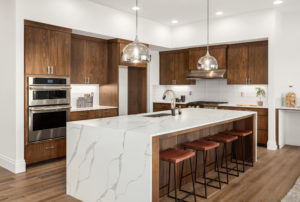 1. DARK WOOD STAIN
Designers have seen a direction toward traditional style, that was popular in the late 90's- mid-2000's. This style featured lots of classic colors, with deeper-toned cabinetry and wood. In 2023 the return of dark wood stains continues! All-white kitchens dominated the industry for many years, and customers are seeing the warmer, inviting tones as a welcomed change.

2. BOLD COLOR
A shift toward pops of color on backsplashes and cabinets are becoming popular again. If hesitant to take the plunge, test out a bold color by painting just the kitchen island. A return of 1950's style has increased the popularity in pastel, vibrant shades that dominated this decade.


3. GLOSS TILE BACKSPLASH
Matte backsplashes have been trending in the past few years but homeowners are leaning toward glossy, high shine backsplashes now. These tiles are much easier to clean, as well as adding interest with reflecting light. Adding tiles with texture and color are an easy way to modernize your kitchen.

4. VINTAGE PIECES
Vintage is often used in homes to add personality and character, and the kitchen is no exception. Adding vintage tables, chairs, hardware, or lighting fixtures is a simple and effective method to add warmth. Reclaimed wooden beams are also a popular choice to add an antique element of depth to ceilings.
5. SUSTAINABILITY
The sustainability of furniture and appliances has become increasingly popular among the public recently. Increased consciousness of the hazards of chemically-treated plastic has caused an increase in natural, sustainable elements in kitchens. Second-hand items are becoming increasingly popular, encouraging buyers to shop more sustainably.
Any of these elements can create the perfect environment for your dream kitchen! Call Jameson today for professional help and guidance, making all of your kitchen inspirations come true.